DC Water celebrates National Preparedness Month with an emergency management first, and appreciation for partners
September 05, 2019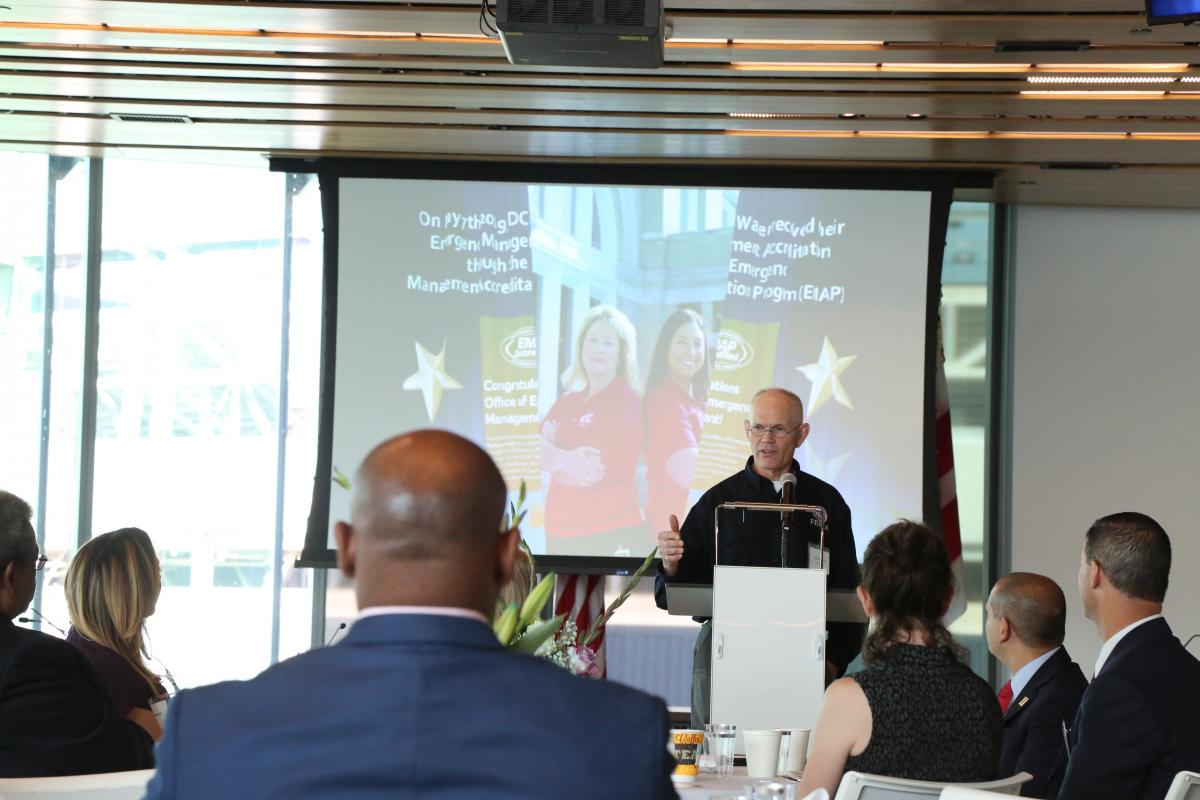 As Hurricane Dorian churns up the eastern seaboard, we can thank our first responders and emergency managers for preparing this region for natural disasters and emergencies like this.
This current threat to the east coast comes just as the nation kicks off National Preparedness Month in the month of September. DC Water today celebrated first responders, emergency managers and those agencies and individuals who support emergency planning and response. The Authority also announced that DC Water is the first utility in the world to achieve accreditation under the Emergency Management Accreditation Program.
DC Water CEO David L. Gadis expressed appreciation to all those who supported DC Water through the accreditation process. "We couldn't have achieved this distinction without our partners who work side-by-side with us in emergency planning, mitigation and response."
Keynote speaker Director Kim R. Kadesh, FEMA Office of National Capital Region Coordination congratulated DC Water on its accreditation and added, "This is more than one agency's accomplishment. This is about all of our agencies collaborating and coordinating locally, regionally and nationally. The stronger the individual agencies, the stronger and more resilient we are as a whole."
 
DC Water weathered a rigorous evaluation on the path to accreditation. EMAP is the recognized process to evaluate the effectiveness of local, state, and federal programs against 64 standards in emergency management. This distinction demonstrates an agency has developed, implemented, and maintains efforts to mitigate, prepare for, respond to, and recover from disasters and emergencies. DC Water is the first utility, including electric and gas industries, in the world to receive this accreditation.
 
Steve Harris, Deputy Assistant Director for Infrastructure Security, Cybersecurity and Infrastructure Security Agency, commented, "DC Water has been an active partner with the Cybersecurity and Infrastructure Security Agency (CISA) for many years in our collective effort to protect against threats to secure our critical infrastructure. We appreciate their commitment to prepare, practice and protect, and look forward to our continued collaboration in the future."
Chris Rodriguez, Director of the District of Columbia Homeland Security and Emergency Management Agency, who led DC HSEMA through the EMAP reaccreditation process several years ago, described the benefits of the process, "EMAP accreditation helps us sustain the best of what we do and improve in other areas. It is a huge effort but those who put in the work are better able to meet the challenges of our critical work." Rodriguez also described the District's Incident Management (IMT) Academy, a cohort of emerging leaders who are pursuing specialized training for emergency preparedness and response roles. A number of DC Water employees are participating in the inaugural cohort, training and exercising with participants from various District agencies.