DC Water has arguably the largest capital program in the District of Columbia with multiple large scale infrastructure projects currently underway at the Blue Plains Advanced Wastewater Treatment Plant and other sites across the city. More major projects are planned over the next 10 years.
These projects are largely funded by our ratepayers, and for that reason we've launched the DC Water Works initiative - a multi-pronged effort to boost local hiring on DC Water projects.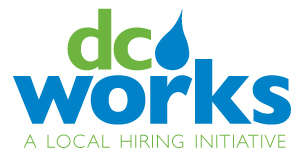 Through this program, we actively encourage and support the development and participation of local residents in the Authority's contractor workforce. The creation of a local, readily available labor pool, with skills needed by our contractors will enhance our ability to provide water and sewer services.
Program Goals
We have set ambitious goals for the DC Water Works Program. First, for DC Water construction and service contracts, at least (sixty) 60% of the total contractor workforce will be local residents.   
In addition, seventy-five percent (75%) of new jobs created by contracts or procurements entered into by DC Water with contractors will be filled by local residents. New Jobs mean both union and non-union job openings, including vacancies created as a result of internal promotions, terminations or other separations, and expansions of the contractor's workforce.
Please read the DC Water Works Program for complete details.