Northeast Boundary Tunnel Project
Overview
The proposed Northeast Boundary Tunnel (NEBT) is a large, deep, sewer tunnel that will increase the capacity of the existing sewer system in the District, significantly mitigating sewer flooding and improving the water quality of the Anacostia River. The NEBT is the largest component of the Clean Rivers Project and will start just south of the RFK Stadium and extend north to Rhode Island Avenue and west to R Street NW. In addition to the tunnel, DC Water will be constructing diversion facilities along the tunnel alignment to capture flows from the existing sewer system and divert them to the tunnel. The NEBT will connect with the First Street Tunnel and Anacostia River Tunnel to provide a complete gravity system from Northwest DC to Blue Plains Advanced Wastewater Treatment Plant, where all flows captured by the tunnel system will be delivered for treatment prior to discharge to the Potomac River.
Completion of the NEBT in 2023 will fulfill new facility construction on the Anacostia River required by DC Water's Consent Decree. Once the NEBT is connected to the other Clean Rivers tunnels, combined sewer overflows to the Anacostia River will be reduced by 98 percent. In addition to controlling combined sewer overflows, the construction of the Northeast Boundary Tunnel will reduce the chance of flooding in the areas it serves from approximately 50 to 7 percent in any given year.
Why is the Tunnel Needed?
The tunnel will address chronic sewer flooding that has been occurring since the 1900's.  The flooding is a result of an undersized sewer system that was further exacerbated by development in the District.  Currently, there is a 50% chance that flooding could occur in any given year and there are six areas that are plagued by chronic flooding.  This project will significantly mitigate the chance of flooding and provide a system capable of handling a 15-year storm in the areas it serves.  See the "Magnitude of the Problem" figure below that illustrates the chronic sewer flooding areas.
Scope of Work
Installation of 27,000 foot long, 23 foot diameter reinforced concrete tunnel
Tunnel approximately 50 to 160 feet deep
Construction of diversion facilities sited near chronic flood areas to relieve the existing sewer system and divert combined sewer flows to the NEBT
Ventilation control facilities to regulate air flow in the tunnel system
Schedule
| Item | Date |
| --- | --- |
| Design | Completed in June 2016 |
| Construction Start | September 2017 |
| Construction Finish | August 2023 |
Partners
DC Water is working closely with multiple stakeholders, including residents, Advisory Neighborhood Commissions, District Department of Transportation, District Department of Public Works, District Department of Energy and Environment, District Office of the Deputy Mayor for Planning and Economic Development, CSX, Amtrak, District Department of General Services, DC Sports and Entertainment Commission, National Park Service, and the Washington Metropolitan Area Transit Authority.
Project Location Map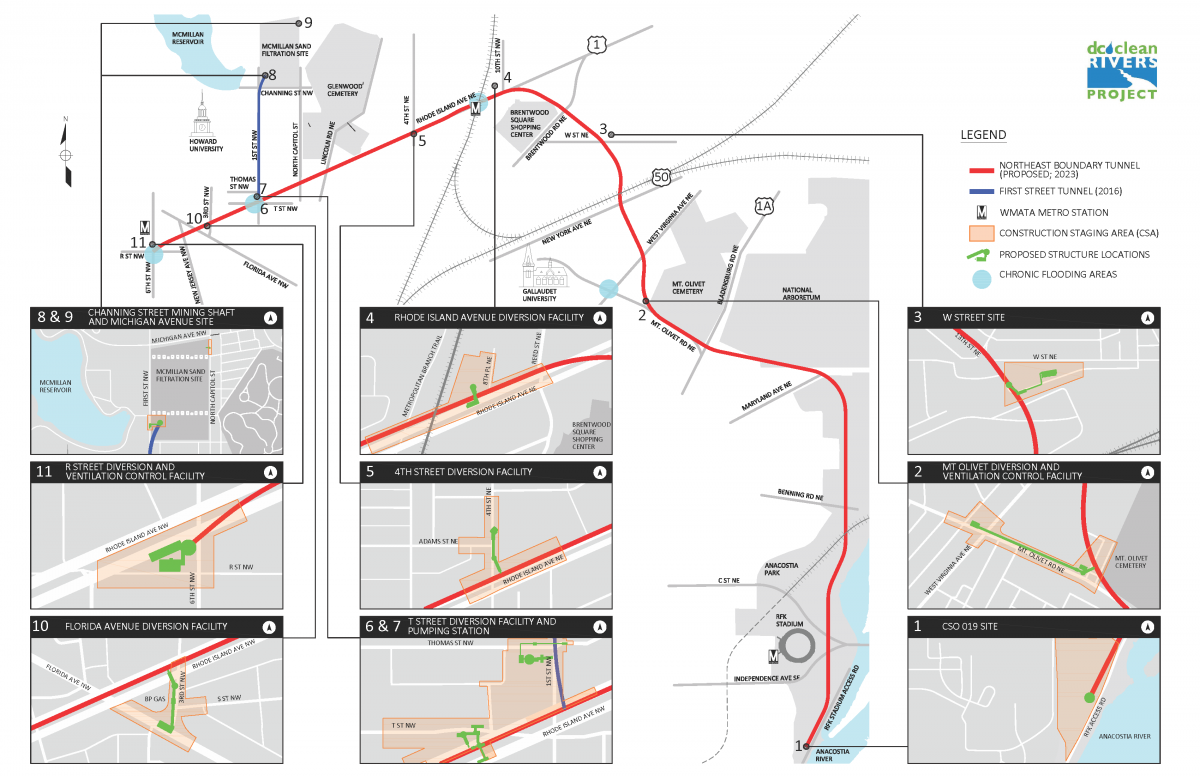 Public Meetings
Check back here for public meeting dates.  A second round of Block Meetings will be scheduled for Spring 2017!