Potomac River Tunnel Project
Overview
The Potomac River Tunnel is the next major phase of the DC Clean Rivers Project. The project consists of a large-diameter deep sewer tunnel, diversion facilities, drop shafts and support structures to capture flows from existing combined sewer overflows along the Potomac River and convey them to the Blue Plains Advanced Wastewater Treatment Plan for treatment. DC Water is proposing to construct the Potomac River Tunnel primarily on National Park Service (NPS) property in the National Capital Region within the Chesapeake and Ohio Canal National Historical Park, Rock Creek Park, and the National Mall and Memorial Parks in the District.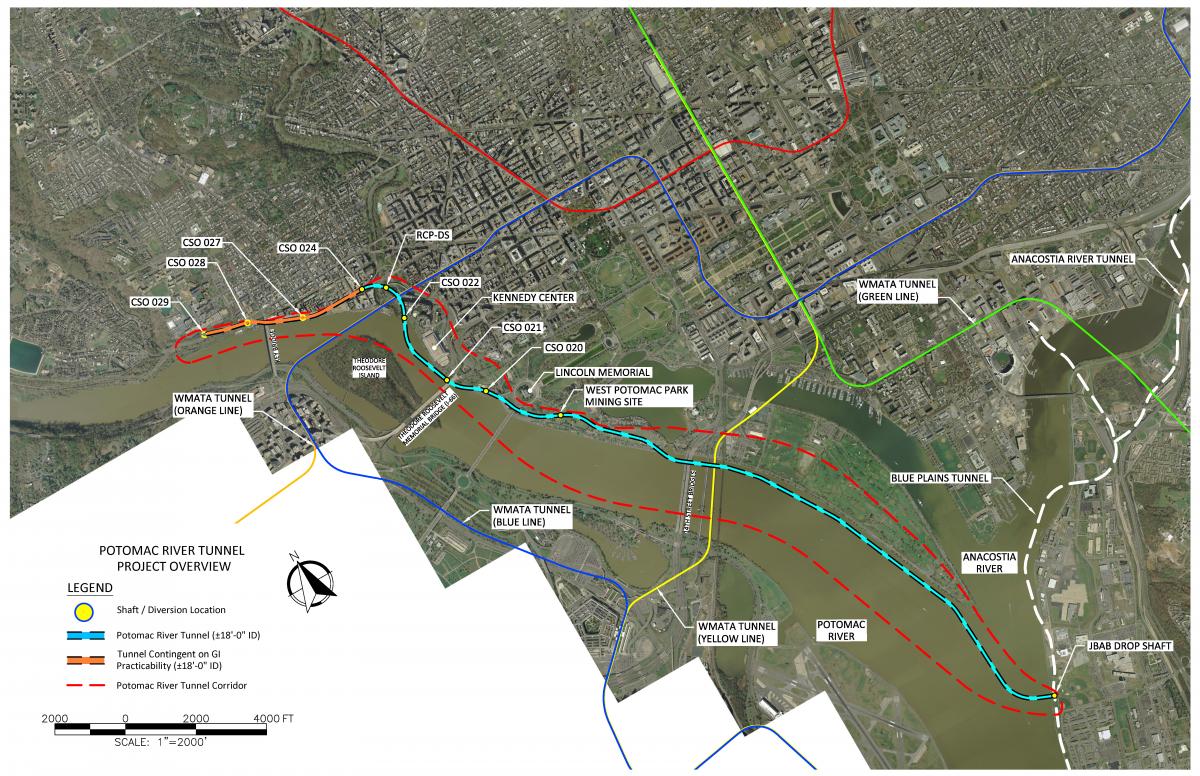 DC Water and the NPS, as co-lead agencies, are currently preparing documentation for compliance with the National Environmental Policy Act (NEPA) of 1969, 42 U.S.C. 4332(2)(C), the National Historic Preservation Act (NHPA), and other laws, regulations and policies. The project was originally scoped as an Environmental Impact Statement (EIS); however, due to design improvements which have significantly reduced the potential for impacts to park resources, the NPS has determined that an Environmental Assessment (EA) is the appropriate level of compliance documentation for the proposed project. DC Water and the NPS are currently preparing an EA, which will evaluate potential impacts of the construction of the Potomac River Tunnel on the natural, cultural, and human environment.
As part of the NEPA and NHPA scoping process, DC Water held a public meeting to share information and receive public comments on the proposed Potomac River Tunnel Project in Summer 2014.  Since that time, design alternatives have been developed and impact assessments are underway. The EA will be released to the public in Summer 2018 for an official comment period of 30 days. A public meeting will also be held in Summer 2018. An overall schedule for the Potomac River Tunnel EA is included below.
Environmental Assessment Schedule
| Environmental Assessment Step | Date |
| --- | --- |
| Data Collection | Complete |
| Alternatives Development | Ongoing |
| Impact Assessment | Ongoing |
| EA Released to Public/Agencies | Summer 2018 |
| Public Meeting | Summer 2018 |
| Issuance of Record of Decision | Fall 2018 |
Public Meeting Notice
Check back here for details on EA updates and future public meetings. Comments on the EA will be collected following the release of the Draft EA via the following methods:
Online at http://parkplanning.nps.gov/PotomacRiverTunnel, or mailed to the following address:
DC Clean Rivers Project
c/o Potomac River Tunnel EA
5000 Overlook Ave SW, Washington, DC 20032