Potomac River Tunnel Project
Overview
The Potomac River Tunnel is the next major phase of the DC Clean Rivers Project. The project consists of a large-diameter deep sewer tunnel, diversion facilities, drop shafts, and support structures to capture flows from existing combined sewer overflows (CSOs) along the Potomac River and convey them to the Blue Plains Advanced Wastewater Treatment Plan for treatment. The project is needed to reduce CSOs that contribute to water quality impairment of the Potomac River and ultimately the Chesapeake Bay; and to comply with the 2005 Federal Consent Decree entered into by DC Water, the District of Columbia, the US Environmental Protection Agency, and the US Department of Justice, as amended January 2016. CSOs impair water quality by increasing water bacteria levels, contributing to low dissolved oxygen in the water, increasing the potential for fish stress or fish kills and impacts on other aquatic life, and increasing the amount of trash in waterways. An estimated 654 million gallons of CSOs currently enter the Potomac River in a year of average rainfall. The proposed controls are estimated to reduce CSOs to the Potomac River by 93% by volume and reduce their frequency from approximately 74 events to 4 events in a year of average rainfall. The Potomac River Tunnel Project includes two main phases: Advanced Utility Construction and Potomac River Tunnel Construction. Advanced Utility Construction is the first phase of the project. The purpose of the Advanced Utility Construction phase of the project is to provide electrical infrastructure needed for the construction and then operation of the Potomac River Tunnel. The Potomac River Tunnel Construction is the second phase of the project.  Construction related to Advanced Utility Construction will begin in the Fall of 2021. Potomac River Tunnel Construction is anticipated to begin in Spring 2023.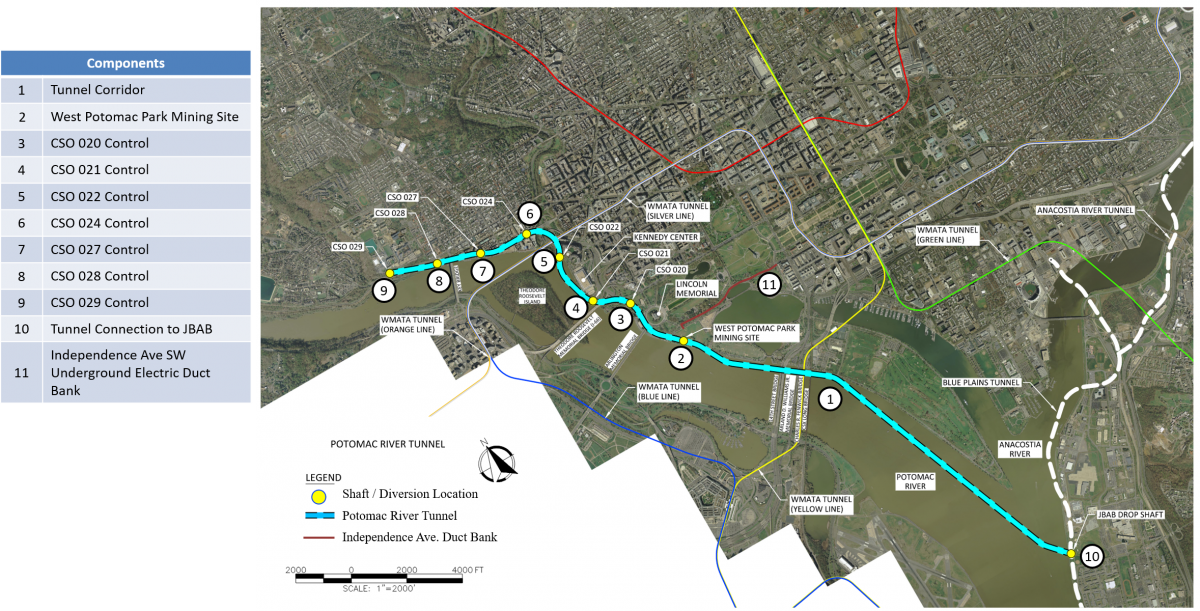 Potomac River Tunnel Corridor Map



Because portions of the project are proposed for construction on lands administered by the National Park Service (NPS), DC Water and the NPS prepared an Environmental Assessment (EA) to document compliance with the National Environmental Policy Act (NEPA), which is required for NPS issuance of construction permits for the project. The NPS National Capital Area Acting Director issued a Finding of No Significant Impact (FONSI) for the project on March 30, 2020. The complete EA and FONSI can be downloaded from the Project Documents link above. DC Water is continuing to pursue necessary permits and easements for the project and is completing other planning and design activities to place the project in operation by 2030 in accordance with its consent decree. For more information, please email dccleanrivers@dcwater.com. 
Project Schedule
| | |
| --- | --- |
| Design, Permitting, Third-Party Coordination: | Ongoing |
| Advanced Utility Relocation: | Late 2021- Early 2023 |
| Request for Qualifications: | Late 2021 |
| Request for Proposal: | Mid 2022 |
| Contract Award/Start Construction: | Mid 2023 |
| Place in Operation: | March 23, 2030 (Consent Decree Milestone) |
Community Meeting Presentation
Click here to see the January 31, 2022 presentation about this project.
Click here to see the December 9, 2021 presentation about this project.