DC Water Launches First-Ever Mobile App
August 09, 2017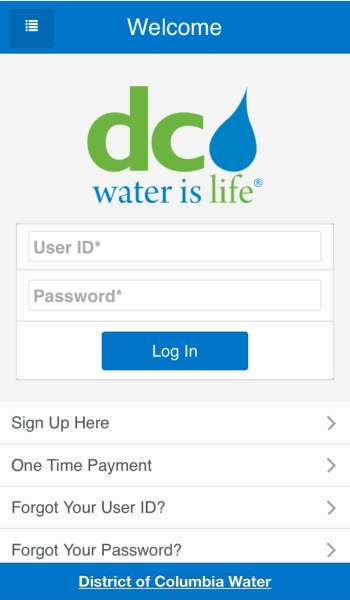 As of today, DC Water customers can access their online accounts anywhere, anytime, from the convenience of their smartphone or tablet. The mobile My DC Water app is available—free of charge— for Android in the Google Play Store and for the iPhone in the Apple App Store.
DC Water is excited to announce this new capability as part of its continued focus on improving customer service. DC Water first unveiled a revamped website in January, then an upgraded customer portal in July and now introduces its mobile app for customers to access their online account, view their water usage and pay their bill.
"This marks another significant improvement to the customer experience," commented George S. Hawkins, DC Water CEO and General Manager. "Customers can access all the same information and perform the same functions as they can using our web customer portal, but with the convenience of a mobile app."
Added Thomas Kuczynski, Chief Information Officer, "This is more than just a responsive website that adjusts to a handheld device, this is a true mobile app, for Apple or Android mobile devices."
To access usage information, customers will need to register or re-register their online account, though anyone can use the mobile app to make a one-time payment, as long as they have the account number (including check digit), house number and street address.
As communicated in July, customers who were previously registered for an old DC Water online account were asked to re-register for the upgraded customer portal. Customers who have re-registered since July 17th will be able to use that account for both the web portal and mobile app.
For now, only property owners and property managers on behalf of owners, can register to use the new portal, though DC Water plans to offer access to tenants and other third parties, with property owner approval, in the near future.
Those who were participating in recurring credit card or Electronic Funds Transfer (EFT) payments will need to re-enroll in those functions, as well as the e-bill option if you haven't already done so after the July 17th launch of the new customer portal. The recurring automatic payment information that was stored prior to July 17 will remain in effect until November, at which time it will be canceled. Please be sure to re-enroll prior to November.
Anyone, whether a property owner, tenant, family member or other third party, can now make one-time payments for a water bill.
Additional functions, including text to pay and email to pay, are planned for early 2018.
Please visit dcwater.com/customer for more information.