Downspout Disconnection Program
Welcome to Downspout Disconnection! You can DRAIN the RAIN to help clean the District's Rivers! Find all of the information and sign-up below!
Project Description
The DC Clean Rivers Project (DCCR) is implementing a voluntary program for FREE downspout disconnections with a FREE rain barrel in select areas. Join us and help clean the District's rivers!
Downspout disconnection involves cutting the downspout, attaching an elbow and extension to direct the stormwater to flow away from the house onto the lawn or pervious area or into a rain barrel, and capping the standpipe.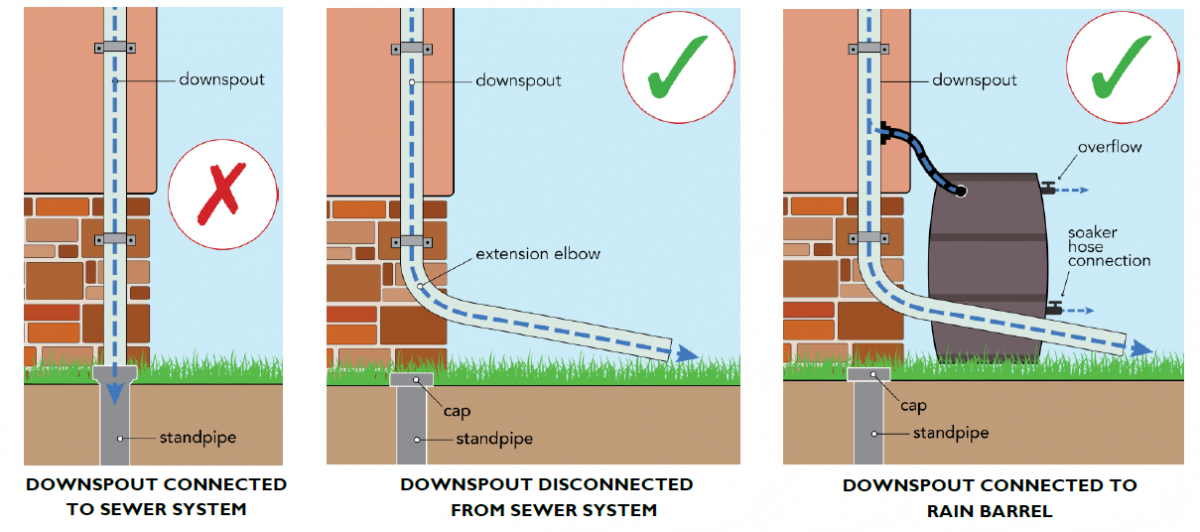 DCCR's downspout disconnection program applies only to properties within the project areas with downspouts that are connected to the combined sewer system that meet criteria for disconnection. If your downspout is connected, there is adequate pervious space for runoff to flow, and runoff will flow away from the building, you may be eligible.
Are you eligible?
Is your home within one of the project areas? Click the map below and enter your address to find out. If your home falls within the shaded area, you are within the project area!

 

 

Do you have downspouts connected to the combined sewer system? 
Is there a lawn or pervious area where the water can be directed away from your house?
If you answered YES to all three questions, please fill out the form on this page or email draintherain@dcwater.com to schedule a free home assessment to determine your eligibility.
If you would like other green infrastructure such as rain gardens, green roofs, and pervious pavers or if you are not currently eligible for DCCR's downspout disconnection program, the District's Department of Energy & Environment (DOEE) RiverSmart Program may have options for you. Visit http://doee.dc.gov/riversmart to learn about their programs for green infrastructure.
Did you know?
About one-third of the District is served by the combined sewer system. Downspouts connected to the combined sewer system contribute to combined sewer overflows (CSOs).
Downspout disconnection helps control CSOs and reduce stormwater runoff. It can also help you save money on water bills by reducing water usage, if you disconnect to a rain barrel.