U.S. EPA, DC Water, the Embassy of Japan and DOEE celebrate a cleaner Anacostia River on Earth Day
April 22, 2019
This Earth Day, U.S. EPA, DC Water, the Embassy of Japan, District Department of the Environment (DOEE) and others assembled on the Anacostia River to celebrate the success of the Clean Rivers Project. On this pristine afternoon, DC Water's skimmer boats demonstrated how they collect hundreds of tons of trash and floatable debris every year. Additionally, attendees celebrated the success of the lower Anacostia River Tunnel-- which after one year in service has prevented more than 5 billion gallons of sewage, and 1,100 tons of trash, solids and debris, from entering the Anacostia.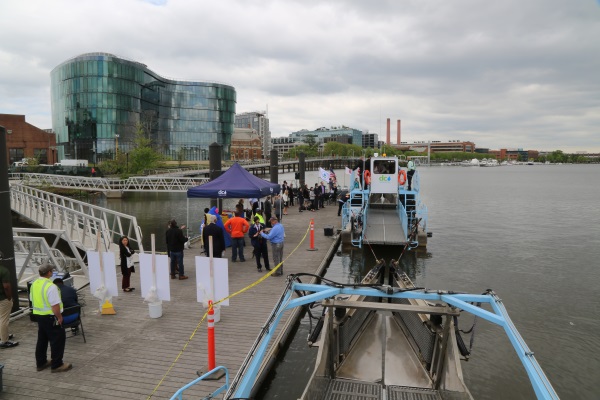 About one-third of the District, like hundreds of older cities, is served by a 100-plus-year-old combined sewer system that carries both stormwater and sewage in one pipe. In dry weather, this civil engineering approach works smoothly; however, during rainstorms the increased volume overwhelms the system and, rather than back up onto streets and in homes, is designed to overflow to the nearest waterway, carrying trash and debris with it.
 
"We inherited a number of legacy challenges and have developed unique solutions to address these issues head-on," said Biju George, DC Water Executive Vice President, Operations and Engineering. "The Clean Rivers Project includes the tunnel system and skimmer boats, working in tandem for a healthier river and a vibrant waterfront."
 
The massive $2.7 billion ratepayer-funded investment put DC Water on target to meet one of the highest combined sewer overflow (CSO) capture rates in the nation. "It is the largest project we've ever done and is easily the largest public works project happening in our nation's capital today," added George. Once complete, the Clean Rivers Project will reduce combined sewer overflow to the Anacostia by 98 percent and 96 percent for all three of the District's waterways. The portion that is already in service was expected to reduce CSOs by approximately 80 percent in an average rainfall year, yet it has exceeded projections and is performing around 90 percent.
 
Now, instead of flowing into the Anacostia, the combined stormwater and sewage is captured and conveyed to the Blue Plains Advanced Wastewater Treatment Plant for treatment prior to discharge to the Potomac River.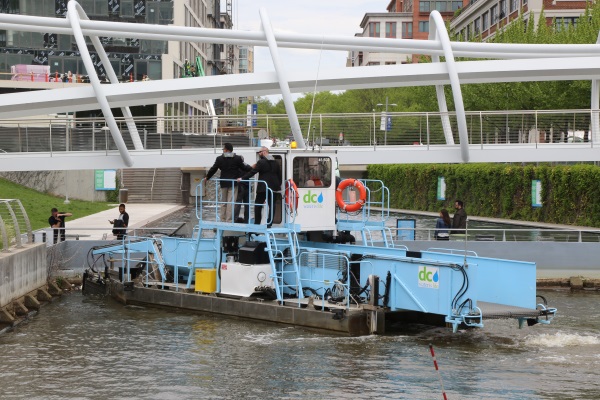 Commenting on today's celebration, Andrew Wheeler, U.S. Environmental Protection Agency Administrator, said, "Since the first Earth Day in 1970, America has made tremendous progress improving air quality, cleaning up contaminated lands, and ensuring our bodies of water are safe for recreation and commerce. We are continuing that progress and working hard to ensure all Americans have a clean, healthy environment and a more prosperous future. Today, we were delighted to join with Japanese Ambassador Sugiyama to see firsthand the work DC Water is doing to address marine litter."
Japan's Ambassador Shunsuke Sugiyama echoed the importance of keeping water bodies free of marine litter. "Japan and the U.S. already cooperate globally on the environment," he said. "And I look forward to further cooperation in the years ahead."
For more information on the Clean Rivers Project, a $2.7 billion plan for healthier District waterways, please visit: www.dcwater.com/cleanrivers.