DC Water and District officials kick off green projects to improve the health of Rock Creek and the Potomac River
October 23, 2017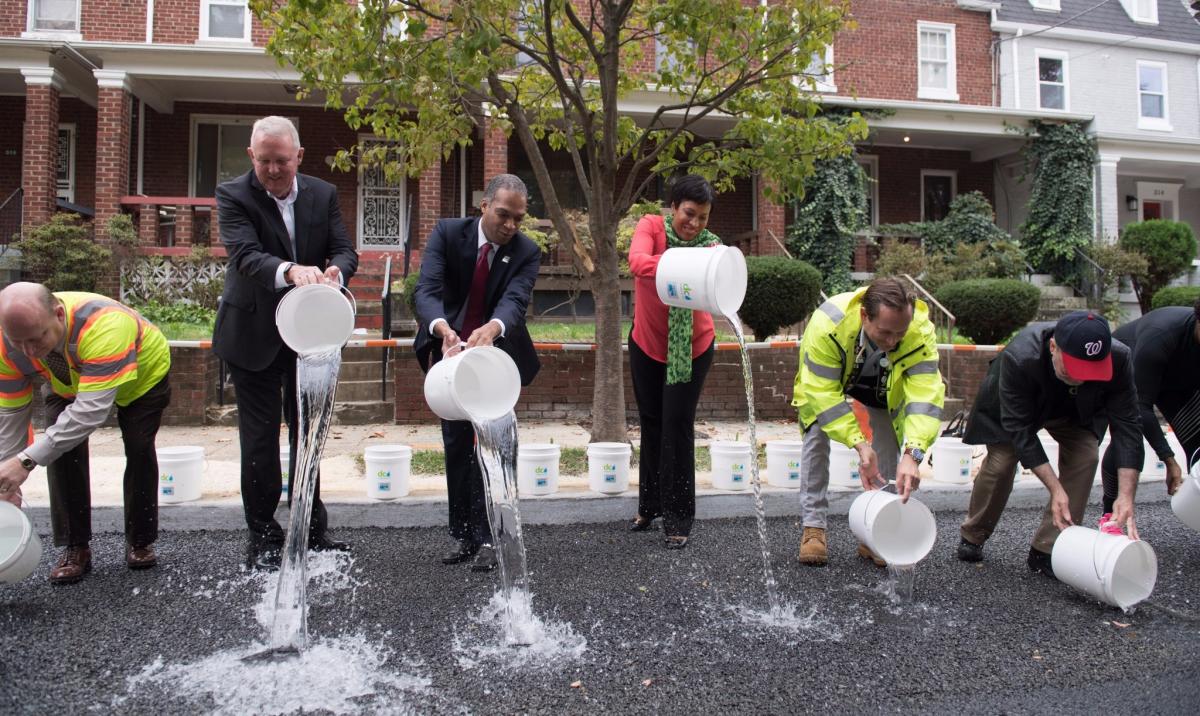 Today, DC Mayor Muriel Bowser, DC Water Board Chair and Director of the Department of Energy and the Environment Tommy Wells and Ward 4 Councilmember Brandon Todd joined DC Water to kick off green infrastructure projects in Northwest DC that will improve the health of local waterways.
"Over the past year, we joined the Water Environment Federation and several partners to develop a nationwide certification program to train workers in installation and maintenance of green infrastructure. Today we realize the promise of a greener city with good, professional green jobs for people who need them," said DC Water CEO and General Manager George S. Hawkins.
"With the DC Water Green Infrastructure Project, we are taking our commitment to green infrastructure one step further. These projects will build greener and more attractive neighborhoods, create local jobs, and improve the health, quality, and flow of our local rivers," said Bowser, who has elevated the District's efforts towards sustainability.
In addition to managing DOEE green infrastructure projects, Wells has supported efforts by DC Water to expand the use of GI to meet the expectations of the consent decree, "These measures will protect public health as well as the environment, reducing the heat island effect and re-establishing natural habitats for wildlife."
Todd, whose Ward is the primary focus on the green infrastructure building, praised the effort for creating jobs and addressing stormwater runoff: "Ward 4 residents want to know that we are doing everything in our power to keep our waterways clean," Todd said.
The new projects in the Brightwood community in Ward 4 are part of the DC Clean Rivers Project, the ongoing program to reduce combined sewer overflows (CSOs) into the District's three waterways - the Anacostia and Potomac Rivers and Rock Creek. The $2.7 billion program is designed to capture and clean water during heavy rainfalls before it ever reaches the sewer system. It protects public health and the environment, cleaning waterways by reducing the pollutants that enter our rivers and can be harmful to wildlife.
The green infrastructure practices near the site of today's event include green alleys, permeable (allowing water to run through it) pavement on parking lanes and rain gardens. The celebration was held on Madison and Third, NW, near multiple green project locations under construction.
Soon there will be 79 new green facilities in the Rock Creek sewershed. These will be completed by 2019 and will be monitored for their effectiveness. The data will help inform the decision of whether to continue with green infrastructure to achieve CSO reduction for Rock Creek or to build an underground storage tunnel, as was the solution for the Anacostia River.
Improved water quality from reducing CSOs to Rock Creek will also benefit its receiving waters—including the Potomac River. Currently the future plan to reduce CSOs to the Potomac include both a tunnel and green infrastructure.
Several graduates of the course are employed by Anchor Construction, the contractor building these green infrastructure projects. The hiring process is part of DC Water Works, a larger program aimed at identifying and developing qualified talent for in-demand jobs and to support community-based job creation in the District. For more information on the green infrastructure project in Rock Creek, please visit: www.dcwater.com/rockcreekgreen