Northeast Boundary Utility Relocations Project
Overview
In preparation for construction of the Northeast Boundary Tunnel Project, scheduled to start in 2017, DC Water is working to relocate existing water, sewer, gas, electric and communication services at pivotal points along the tunnel alignment. The relocation of these services along the future tunnel alignment is critical for successful completion of the project. DC Water is coordinating efforts with Washington Gas, Pepco and Verizon during the process to minimize disruptions in these services.
Scope of Work
Relocation of 700 feet of Sewers
Relocation of 2,100 feet of Water Mains
Relocation of 2,400 feet of Electric Power Lines
Relocation of 1,320 feet of Gas Lines
Relocation of 420 feet of Communication Lines
Schedule
| Item | Date |
| --- | --- |
| Construction Start | May 2016 |
| Construction Finish | April 2018 |
DC Water is working collaboratively with the District Department of Transportation (DDOT) and Washington Metropolitan Area Transit Authority (WMATA) to assess construction impacts and develop mitigation measures to vehicular, pedestrian, bicycle and transit operations. DC Water is also working closely with Washington Gas, Pepco, Verizon, Comcast and Verizon Business to ensure work is coordinated at each Construction Site.
Project Location Map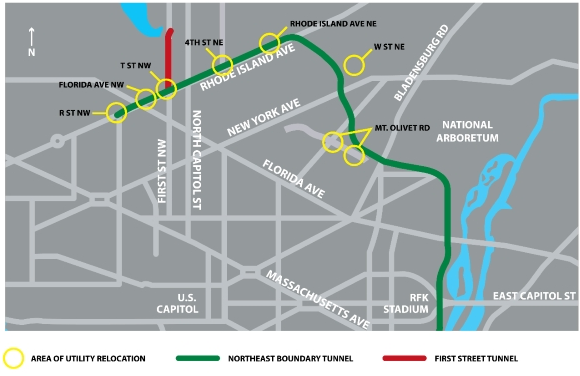 Important Information
DC Water has established a 24/7 HOTLINE to provide project information to the community: (800) 436-8534
Disruptions to utilities during relocation activities may cause temporary disruptions to residents and businesses
DC Water will work to incorporate mitigation measures to offset temporary construction-related impacts