Traffic Advisory: Northeast Boundary Tunnel Project Travel Lane Changes on Mt Olivet Road NE
December 11, 2020
(Washington, DC) – DC Water has two new active construction sites as part of the Northeast Boundary Tunnel Project that will impact motor and pedestrian traffic. One is on Mount Olivet Road NE located at Capitol Avenue NE and the other is on the Department of Public Works lot. Traffic pattern changes and parking restrictions will be in place 24/7 during this work which will be completed in 2022. Please follow all traffic and pedestrian detour signs and exercise caution around the area.
Traffic Pattern on Mount Olivet Road NE
Travel lanes on Mount Olivet Road have been reduced to one lane in each direction past the construction sites located on the Department of Public Works lot and at Capitol Avenue NE. Left turns are not permitted from Mount Olivet Road onto West Virginia Avenue NE.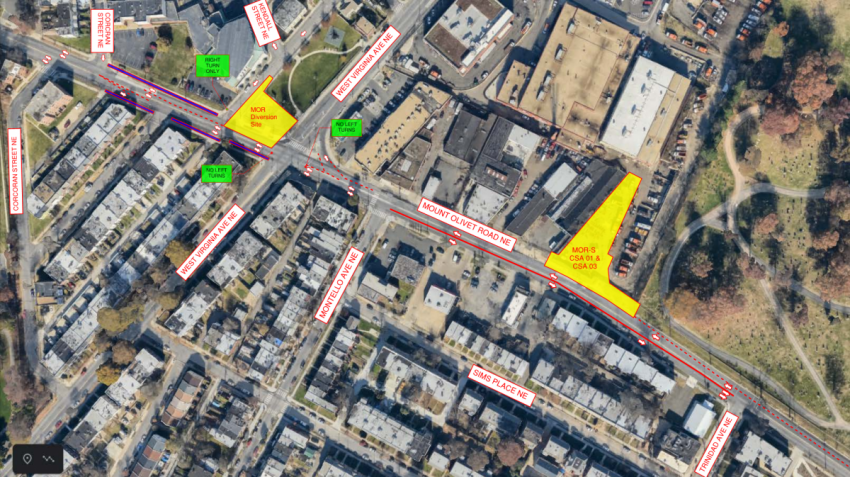 Detours to West Virginia Avenue: Commuters traveling in the area are encouraged to use Florida Avenue NE and New York Avenue NE as detours to access West Virginia Avenue. Detour signs are posted.
Traffic Pattern on Capitol Avenue NE
Capitol Avenue NE is now one way in the southbound direction, traveling towards Mount Olivet Road NE. Barricades and drums are placed to prevent any turns onto Capitol Avenue from Mount Olivet Road. Motorists can access Capitol Avenue from Central Place NE and Fenwick Street NE.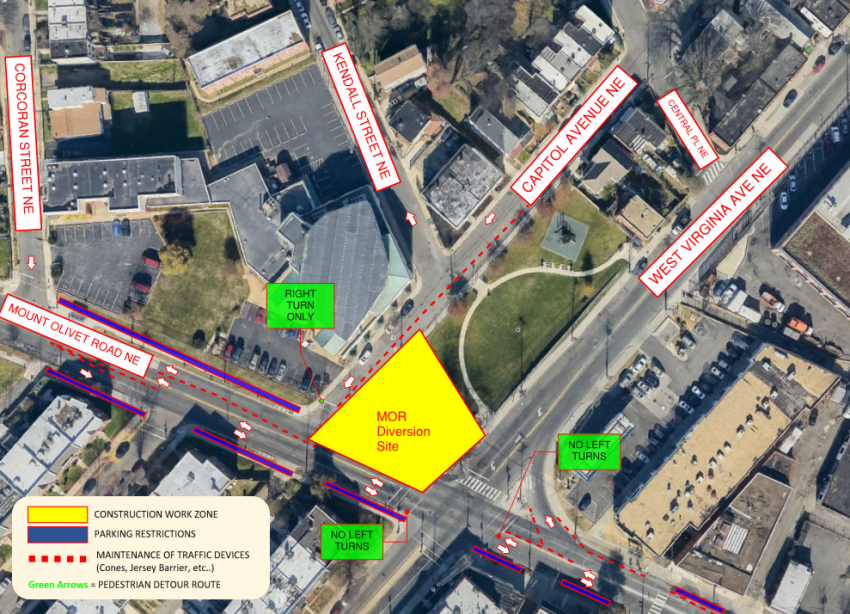 Please Drive Safely 
People who live or work near Mount Olivet Road will notice construction crew workers and construction activities near the sites. Please drive safely as you navigate around the construction sites. 
•    Expect delays; plan accordingly and leave early to reach your destination on time.
•    Consider using alternate routes.
•    Slow down, be alert, and pay attention to the signs. 
•    Stop to allow pedestrians to cross safely. 
Project Details
The Northeast Boundary Tunnel (NEBT) is the largest component of the Clean Rivers Project. It begins south of RFK Stadium and will extend north to Rhode Island Avenue NE and west to 6th Street NW. Once the NEBT is connected to the other Clean Rivers tunnels, combined sewer overflows to the Anacostia River will be reduced by 98 percent. In addition to controlling combined sewer overflows, the construction of the Northeast Boundary Tunnel will reduce the chance of flooding in the areas it serves from approximately 50 to 7 percent in any given year.
For more information, please contact
Email: dccleanrivers@dcwater.com
24/7 NEBT Hotline: (800) 988-6151
Northeast Boundary Tunnel Project Website: dcwater.com/NEBT