Traffic Advisory - Mobilizing Work Zone on Rhode Island Avenue, NW
April 24, 2020
(Washington, DC) – In May 2020, DC Water's contractor will begin removing portions of the medians on Rhode Island Avenue between 2nd Street NW and 3rd Street and between 3rd Street and Florida Avenue. It is necessary to remove the median portions to allow for lane shifts and create a work area on Rhode Island Avenue as a part of the Florida Avenue Construction Site. We will alert the media when the dates for this work to begin are final.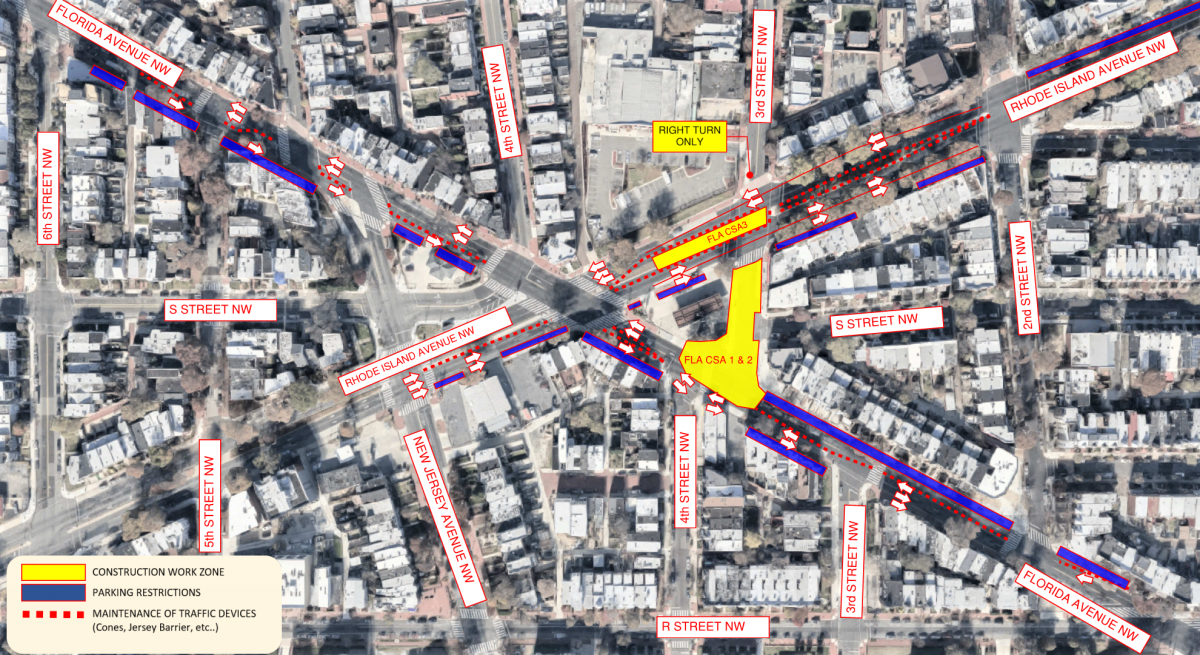 Travel and Parking Restrictions
Travel lanes in each direction of Rhode Island Avenue between North Capitol Street NW and Florida Avenue will be reduced to two lanes.
Parking restrictions will be in place on each side of Rhode Island Avenue between Florida Avenue and North Capitol Street.
Southbound traffic on the 1800-block of 3rd Street will be limited to right turns only onto Rhode Island Avenue.
Site Mobilization
Once median removal is complete, DC Water's contractor will begin the mobilization of a construction work area on Rhode Island Avenue, between 3rd Street and Florida Avenue. This work area mobilization will include setting up a site perimeter, potholing for underground utilities, installing erosion and sediment controls, and installing temporary storm water management measures. Mobilization will create a construction work zone that will result in the temporary closure of the middle eastbound and westbound lanes of Rhode Island Avenue.
At this construction site DC Water's contractor will install vertical soil-freeze pipes. Ground freezing is a construction method used to stabilize the soil around an excavation area.
Potholing for Underground Utilities
Following construction site mobilization, DC Water's contractor will begin below ground investigations to assess the locations of underground utilities in Rhode Island Avenue between 3rd Street and Florida Avenue. Work will consist of drilling several holes, approximately 1' X 1', into the street, and a vacuum truck will remove the underlying soil to locate any electrical or water lines. Upon completion the soil will be replaced, and the site will be restored. The work will take place in the construction site in the median area of Rhode Island Avenue.
Pre-trenching and Guide Wall Work
Following potholing for underground utilities in Rhode Island Avenue, workers will begin pre-trenching and constructing guide walls for near surface structures. Pre-trenching involves excavating a narrow trench approximately 10 feet deep to ensure that no unknown utilities exist within the area planned for future excavation. Guide wall installation involves excavating an area approximately 4 feet wide and 10 feet deep and installing concrete walls to keep the deep excavation machine in proper position as it digs the 90-feet deep shaft. Pre-trenching and guide wall construction should take approximately 6 weeks to complete.
New Pedestrian Detours
The west crosswalk at Rhode Island Avenue and 3rd Street will be closed. Please follow pedestrian detour signs.
Project Details
The Northeast Boundary Tunnel is the largest component of the Clean Rivers Project. It begins south of RFK Stadium and will extend north to Rhode Island Avenue, NE and west to 6th Street NW. When finished, the approximately five-mile long tunnel segment will complete the Anacostia River Tunnel, a 13.1-mile-long tunnel that ends at the Blue Plains Advanced Wastewater Treatment Plant. This project will significantly reduce chronic flooding in the areas it serves, as well as reduce the amount of combined sewer overflows into the Anacostia River.
For More Information
24/7 Northeast Boundary Tunnel Project Hotline: (800) 988-6151
Public Outreach dccleanrivers@dcwater.com
Northeast Boundary Tunnel Project: dcwater.com/NEBT
DC Clean Rivers Project: dcwater.com/clean-rivers-project